Glossary
Browse the glossary using this index
Special
|
A
|
B
|
C
|
D
|
E
|
F
|
G
|
H
|
I
|
J
|
K
|
L
|
M
|
N
|
O
|
P
|
Q
|
R
|
S
|
T
|
U
|
V
|
W
|
X
|
Y
|
Z
|
ALL
---
Atypical myopathy
Atypical myopathy is caused by ingestion of hypoglycin A leading to multiple Acetyl-Co A dehydrogenase deficiency

---
Castration
The definition of a closed castration is any technique that ends with the vaginal tunic closed.  It does not depend on how the skin incision is left or whether a ligature is placed before the testicle is removed.

Dentistry
Rasping teeth manually may not the quickest way but has the benefit of exercising multiple muscles, bicep, triceps, deltoid, pectoralis …..paid fitness work-out!
---
Did you know....?
There is a quarterly disease surveillance report covering the UK, Europe and the rest of the world. As well as numbers of cases of infectious disease- eg a high number of Salmonella cases diagnosed at rescue centres, this also provides useful information on disease control.
---
Do.......
Do drink water! It's easy to forget when you're busy, but it will help stop headaches
Don't.......
Don't leave your phone/coffee/sunnies on the roof of the car when you drive off!
Enjoying your job
"think of all the positive things you have experienced during the day while travelling home.  Even better, cycle or run home and you'll lower your plasma cortisol and adrenaline before you get there! "

---
General
"it's not the size of the pony in the fight, but the size of the fight in the pony....!' 
Injections
"the smaller the patient, the more feisty it will be to inject. "

Joint injections
Consider using x-ray guidance to ensure you're in the right place, especially if you, personally, don't often block that joint eg a pastern.
Mistakes
Things will go wrong, and it sometimes it will be your fault.  Remember the adage - its not whether you get knocked down, its whether you get back up again.

Mules
Mules are a cross between a donkey stallion and a horse mare.
---
Mules
Although mules are non-fertile, castration of stallions is still advisable to limit undesirable behaviour.
Mules
Fearful mules initially show subtle behavioural signs of fear like the donkey, then rapidly switch between the flight responses of the horse and the fight responses of the donkey.
---
Mules
When the subtle signs of fear are missed, stressed mules can appear explosive and aggressive and can pose a high risk to the handler.
---
Mules
Mules tend to exhibit pain behaviour more readily than the donkey and so may show more obvious signs of colic.
---
Mules
If a mule has not had any formal training, is stressed or has previously shown any dangerous behaviour, early sedation should be considered for veterinary procedures prior to catecholamine release.
---
Mules
Use of oral or intramuscular sedation may be more appropriate in a mule than trying to gain intravenous access.
---
Mules
Doses of sedation may need to be significantly increased in stressed/fearful mules due to circulating catecholamines.
---
Mules
Nose twitches can be effective for mules, however due to their negative side effects their use should be carefully considered and limited to a short length of time, for example to administer sedatives.
---
Mules
Mules are less susceptible to hyperlipaemia than donkeys.
---
Mules
Mule foals are highly susceptible to neonatal isoerythrolysis due to 'donkey factor' antigen present in donkey red blood cells.
---
Mules
The position of the nasolacrimal duct varies greatly between mules.
---
Mules
The mule hoof is more similar to the horse or pony and is less susceptible to white line disease than the donkey.
---
NSAIDs
In recent studies meloxicam has been proven to be more effective at reducing intra-articular joint inflammation than phenylbutazone- for more information on managing synovitis click here
Nutrition
Goats milk (preferably with 20g/l dextrose) or 2% fat cows milk with 20g/l of dextrose can be used in an emergency for an orphan foal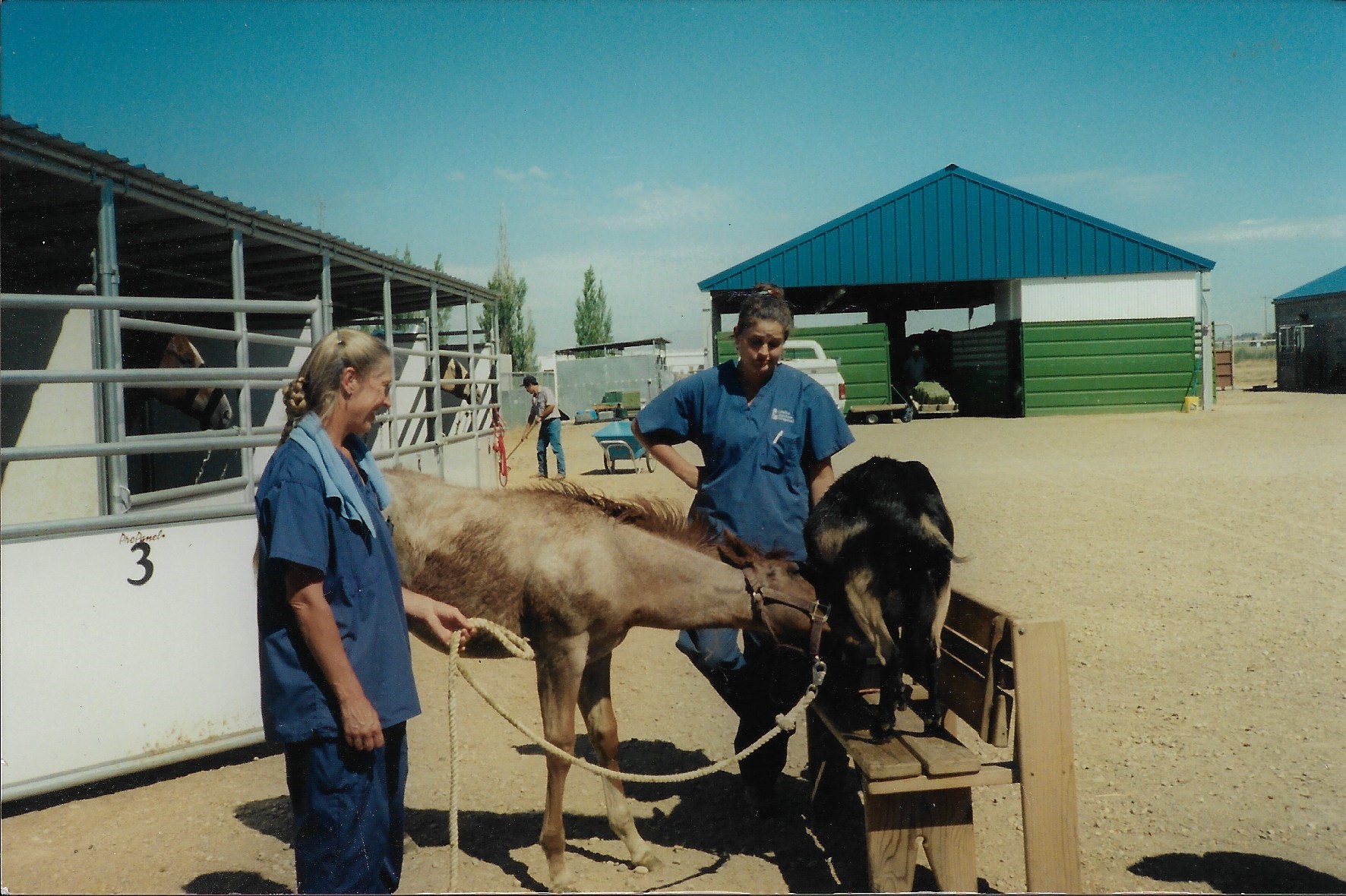 ---
Orthopaedics- foals
Foals with mild lower limb contracture respond well to supportive bandaging from carpus to the floor. It causes tendon laxity and reverses the deformity.
---
PSD
Proximal suspensory desmitis. Inflammation of the proximal part of the suspensory ligament. Signalment includes dressage horses and showjumpers, especially those with upright hindlimb conformation.
---
Radiography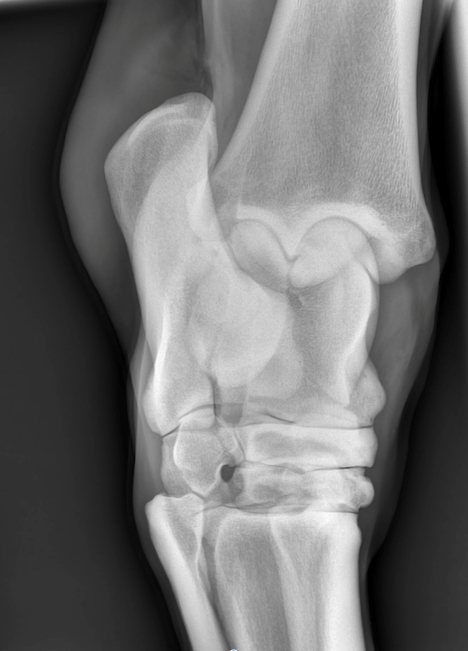 DLPMO of the tarsus
Dorsolateral-plantaromedial oblique view of the tarsus taken by moving the generator 45 degrees sideways (away from the horse) from the dorsal (front) starting position. Gives a 'Donkey's lugs' (DL) view of the talus.
---
Radiography
For a latero-lateral view of the paranasal sinuses centre the beam just dorsal to the rostral aspect of the facial crest.
---
Radiography
To avoid movement blur try to keep the exposure times under 0.2s as a rule of thumb.
---
Radiography
If you are not sure what exposures your x-ray machine is capable of take a look at the sticker on your x-ray machine……if it doesn't have one tell your manufacturer off!
---
Radiography
If you get a noisy image with a "speckly" pattern up the mAs, that will improve your signal-to-noise ratio and hence your image quality.
---
Radiography
85% of horses stand toed-out behind…..worth bearing in mind when you struggle getting good alignment on your lateromedial rads.
---
Radiography
Using the wooden handle of a twitch can be very helpful as a direction guide when taking x-rays. Lay it on the floor in the direction you want your x-rays to go.
---
Sarcoids
Try using a pennies to measure sarcoids- most people have some small change kicking about, use the smallest one which completely covers the sarcoid.
Sarcoids
When banding sarcoids put the elastrator band over a piece of 40mm waste pipe. It'll fit over the sarcoid and the band won't get snagged half on and half off the elastrators.
Sinus anatomy
Maxillary Septal Bulla-  previously called the ventral conchal bulla
---
Top tip
When rectalling a diarrhoea case keep you mouth shut! (Same applies for washing out a mare. with retained foetal membranes!)
---